Thomas is a great example of one reason I like to deliver and install art pieces in our clients homes myself. Mary, a client of our Creative Gateways art gallery in Scottsdale, AZ, had purchased a commissioned fused glass and resin piece by Lucy Paradise that I was installing in her home when I first saw the unique oil paintings of Thomas Panzarino. I was immediately drawn to a piece she had on her wall that was called, "Dinner with Friends". This vibrant, whimsical oil painting on nickel coated metal kept grabbing me and would not let me go. The more I looked the more I could see, and I just became enamored by it.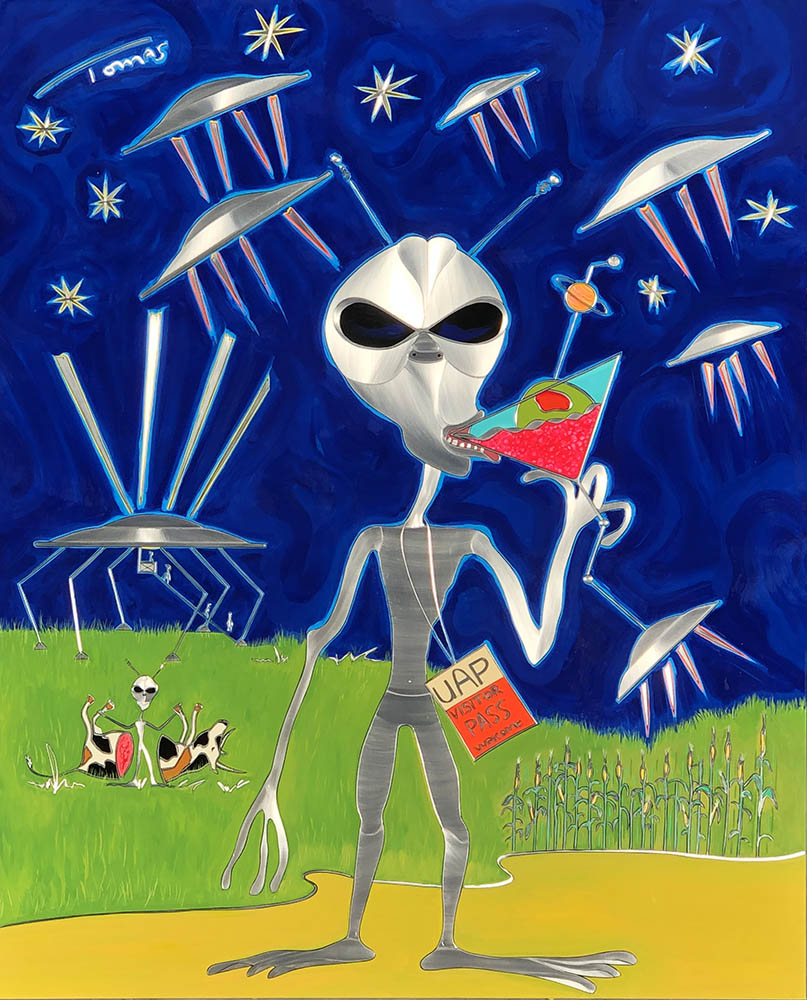 People often ask how we find our artists. The above story is one of the great ways we find great artists for our Sedona and Scottsdale art galleries. Our amazing clients refer or introduce us, which is the case with Mary and Thomas. I am so grateful she made the introduction because Thomas is not only one of my favorite artists now, but he is an awesome man full of life and good energy, and a joy to be around, just like his art works.
In speaking with Thomas initially, he told me this, "All of my paintings are done by hand….no tools…they are all done on metal coated in nickel…exceptionally light weight…. easy to handle. All done in oil enamels….11 steps to the process of each painting." I have come to really appreciate the time and energy spent on each painting as it shows in the final presentation of each piece that he creates.
Thomas, who goes by "Tomas" is a self-taught, 3rd generation Italian American. He spent his early years in New York and moved to California in 1968. He has travelled internationally extensively soaking up different culture which flavors his artwork.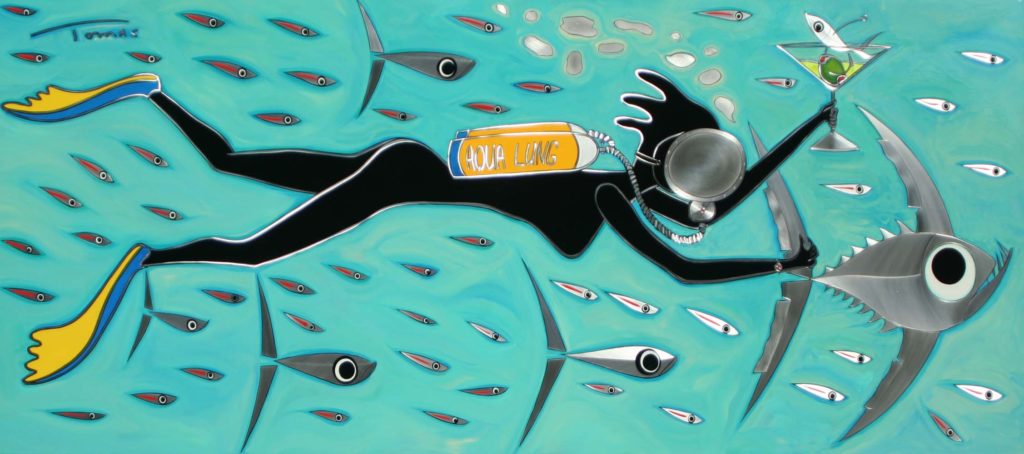 What I have noticed in my time as a gallery owner is that great artists work hard doing what they love and at some point, enter this magical groove and their work transcends what is normal to become something extraordinary. That is the case with Tomas. He is in a magical groove and the work he is producing right now will live throughout the ages and will be talked about, collected, and adored long after we all leave this place.
We are fortunate to have Tomas showing at our Creative Gateways Gallery nestled among all the other wonderful Scottsdale Art Galleries on Main Street in Old Town. You can see his work at this location. We have a special room set aside where you can view some of our top artists, such as Tomas Panzarino, Tom Marosz, Gianluca Vidal, and Caleb Siegler.